If you want to have fun jumping on a trampoline without going outside, you can get an indoor trampoline for your home. It gives the benefits of exercise coupled with fun, even if it is winter or the weather is pretty rough outside. Parents can arrange for an indoor play center with such a trampoline to get the children into active mode. The indoor rebounders can also be used as an exercise trampoline by adults.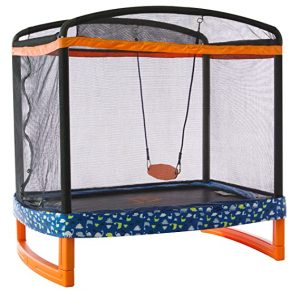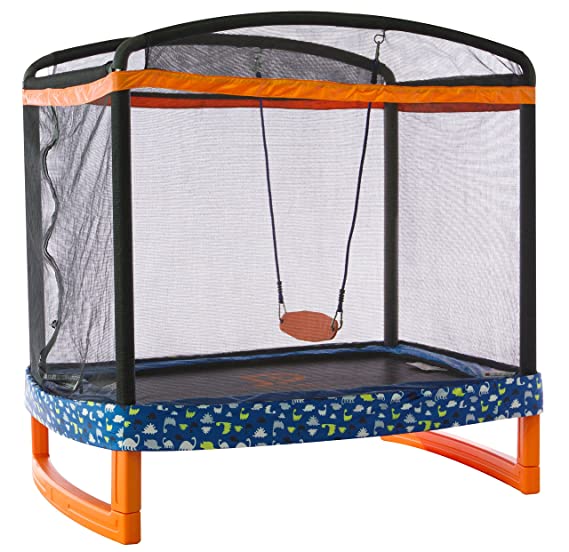 What to Look Out For In an Indoor Trampoline
Weight Limit
You need to check the weight limit of the indoor trampoline before making a purchase. It depends on the purpose for which the trampoline would be used. Mini indoor trampolines for kids usually have a weight limit in the range of 50-200 lbs. Adult fitness trampolines for indoors, on the other hand, are designed to withstand weights well over 300 lbs. If there is more than one person on such mini trampolines, going for a higher weight limit makes sense.
Size
The diameters of most indoor trampolines are between 3-7 feet. A bigger trampoline offers more space to jump, which is great for the adventurous user and kids who like to move about without the fear of falling. Fitness enthusiasts get more room to work out on them. However, you need to keep in mind that the bigger trampolines would consume more space. So if you have space constraints, it makes sense to measure the free space before deciding on an indoor trampoline that fits in there.
Bounce
The bounciest trampolines are not necessarily the best. Having said that, the bounce level of a small trampoline would largely depend on the purpose for which it will be used. Low bounce mini trampolines are best for toddlers and preschoolers since there are fewer chances of falling. It is also good for boosting your blood circulation if you are using it for fitness. The high bounce rebounders are best for cardio exercises like high knees and star jumps.
Safety
Sound security features are instrumental in the well-being of kids using the indoor trampoline. So always check the safety measures included in the trampoline by the manufacturer. It could be a safety enclosure, handlebar, arched legs and so on. If the trampoline uses bungee cords instead of springs, then it is safer and quieter to bounce on it. Those that use springs should offer thick spring paddings or covers to reduce the chances of injuries.
The quality of material used in making the trampoline, like the frame, mat, springs and enclosure, should be good to avoid untoward incidents. Welded legs are sturdier than the screw-in versions though the latter is easy to disassemble and store.
Warranty
The availability of a warranty has an important role to play in choosing a trampoline for your home. It differs with the various brands. You can expect the minimum warranty on the trampoline frame and mat to be 1 year and the same is 6 months for the frame pad. The other smaller parts are usually covered under a 3-month warranty period. It is important to note that most warranties cover manufacturing defects only and not the consequences of misuse.
Top Picks
Best Indoor Trampoline: Skywalker Trampolines Mini Trampoline with Enclosure Net, 48 – Inch, Red
Best Kids' Indoor Trampoline: Skywalker Trampolines Mini Trampoline with Enclosure Net, 48 – Inch, Red
Best Small Indoor Trampoline: Jump2It Kids Portable 2 Person Mini Trampoline with Adjustable Central Handle and Protective Frame Cover
Best Indoor Trampoline for Adults: JumpSport 350 | Fitness Trampoline
Best Small Indoor Trampoline for Toddlers: Skywalker Trampolines Mini Trampoline with Enclosure Net, 40 – Inch, Green
Best Mini Indoor Trampoline: Little Tikes 3′ Trampoline
Best Indoor Trampoline with Net: Skywalker Trampolines Mini Trampoline with Enclosure Net, 48 – Inch, Red
Best Indoor Exercise Trampoline: JumpSport 350 | Fitness Trampoline
Best Indoor Baby Trampoline: Little Tikes 3′ Trampoline
Best Indoor Rectangular Trampoline: JUMP POWER 72" x 50" Rectangle Indoor/Outdoor Trampoline & Safety Net with Swing Combo for Toddlers & Kids
Best Collapsible/Foldable Indoor Trampoline: Stamina 36-Inch Folding Trampoline | Quiet and Safe Bounce
Best Indoor Trampoline With Bar: BCAN 40″ Foldable Mini Trampoline, Fitness Rebounder with Adjustable Foam Handle
Best 2 Person Indoor Trampoline: Jump2It Kids Portable 2 Person Mini Trampoline with Adjustable Central Handle and Protective Frame Cover