Trampoline Types
When it comes to trampolines, there is no one size that fits all. Though they may look alike with basically a bouncing surface covered with an enclosure net in most cases, they do have features and functionalities that make them distinct from one another. The models vary depending on the purpose you want to use them for, the space you can afford, the age of the jumpers, the preferred weight limit and bounce and so many other factors. Here is a list of all the major types of trampolines that could help you choose one that best suits your needs.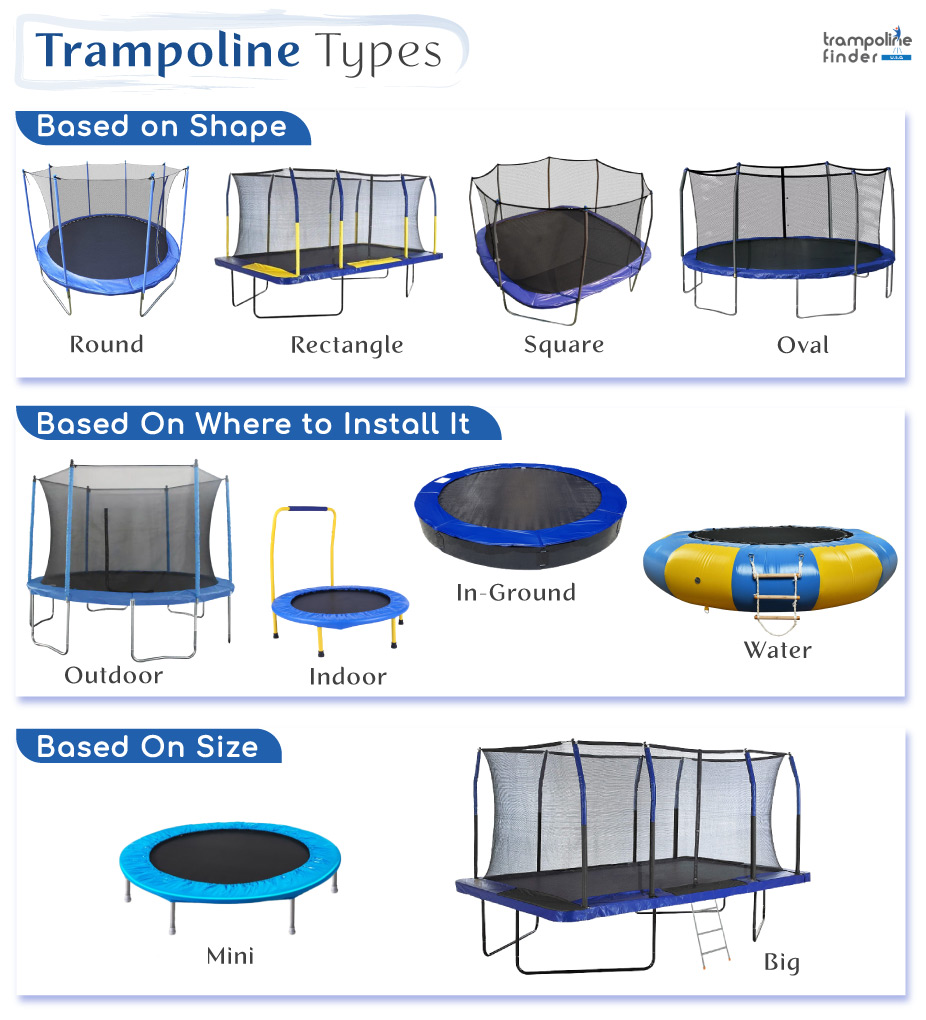 Different Types of Trampolines
Based on Shape
The shape of your backyard really decides what shape you want your trampoline to be. Larger outdoor spaces can house the circular or roundish shapes of trampolines (including ovals) that are deemed safer since they pull the jumper towards the center with each bounce. Narrower spaces call for installing rectangle or square trampolines. Rectangle trampolines also find favor with gymnasts due to their elongated shape.
Based On Where to Install It
Though outdoor trampolines are the most common as they allow you to enjoy as a group in the fresh air of open spaces, there is no reason you can't opt for an indoor trampoline if you are comfortable exercising on them, out of public view. That way, you also get to burn calories when the weather is rough outside or you don't have enough outdoor space. Water trampolines are great for summer fun, while in-ground ones are for people who want to play it safe.
Based On Size
It goes without saying that big trampolines are for people with ample outdoor area at their disposal. Mini trampolines are easy to store, portable and compact. They are ideal for babies and some variants are for adult sports.
Based On Who It Is For
When choosing a trampoline, it is important to have the age of the jumpers in mind, as not all trampolines suit all ages. So go through the product specifications to get an idea of the manufacturer-recommended age of the user.
Based On Special Features
Trampoline manufacturers are always coming up with innovative technologies that make the toy safer and bouncier, increase their weight limit, portability, ease of storage, and even inflatable for amping up the fun.