Why should kids have all the fun when it comes to bouncing on trampolines? Adult trampolines are not just for older people. They can be used by teenagers, kids and adults for entertainment and exercise. Jumping on a trampoline has a low impact on joints while improving the health of your cardiovascular system.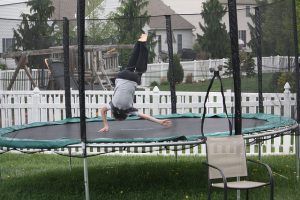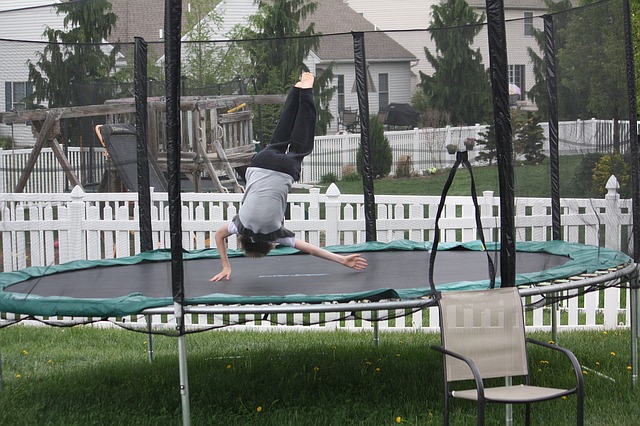 What to look out for in a Trampoline for Adults
Weight Limit
Typically adults' trampolines come with higher weight limits. You could expect them to have weight capacities from 300 to 800 lbs. A higher weight limit accommodates not only adults but also a greater number of people. So you can think of super fun family bouncing times with these. So before buying, it would help if you know the highest weight you wish the trampoline to accommodate.
Safety
Coming equipped with adequate safety features is essential for the trampoline that you want to buy. So look out if the product includes a safety enclosure net (built of good quality mesh material), safety padding to cover the springs, padded poles, etc., that minimize chances of injuries. Decide beforehand on what safety features you would like and read the product specifications for knowing about them.
You might feel that just a safety net would fulfill your security needs, but what if the kids in the family want to accompany you on the trampoline? So you should factor in all possibilities before making a purchase. Note that exercise trampolines could, at the most, have a handlebar as a security feature. So you shouldn't expect elaborate protective features in them.
Size
If you want to buy an outdoor trampoline, it is best to measure the space that you can spare in your yard and search for products accordingly. Browsing products that are larger than the space that you can afford would turn out to be a waste of time. For an indoor exercise trampoline, too, you got to have an idea about how much room you can spare for the equipment at your home without affecting the other indoor functions.
Construction
The quality of the materials that go into the construction of the trampoline are crucial to making a buying decision. It is because even if a trampoline comes with a ton of features and accessories, a poor quality of build makes it not worth a penny. More so because it has to endure a lot of high-energy physical activities for extended periods of time, making it prone to wear and tear. Galvanized steel is the best frame material. In any case, don't settle for anything less than stainless steel for the frame. Rust-free stainless steel springs impart a commendable bounce to the trampoline. Mats that are tightly woven and come with UV-protection are known to last long.
Price
Being bigger and having greater weight limits, trampolines for adults are usually expensive. So if you want to buy one, it is best to decide on a budget and then look at the available options.
Top Picks
Best Trampoline for Adults: Skywalker Trampolines 15 Foot Jump N Dunk Round Trampoline with Enclosure-Basketball
Best Indoor Trampoline for Adults: JumpSport 350 | Fitness Trampoline
Best Adult Mini Trampoline: BCAN 40″ Foldable Mini Trampoline, Fitness Rebounder with Adjustable Foam Handle
Best Exercise Trampoline for Adults: Bellicon Plus Trampoline with Handle 44" with Fold-Up Legs
Best Small Trampoline for Adults: Stamina 36-Inch Folding Trampoline | Quiet and Safe Bounce
Best Outdoor/Backyard Trampoline for Adults: Zupapa 15 14 12 10 FT Trampoline for Kids and Adults with Safety Enclosure
Best Mini Trampoline for Heavy Adults: Zupapa Silent Mini Fitness Trampoline with Adjustable Handrail Bar
Best Heavy Duty Trampoline for Adults: Giantex 8FT 10Ft 12Ft 14Ft 15Ft 16Ft Trampoline with Safety Enclosure Net, Spring Pad, Ladder
Best Large Trampoline for Adults: Giantex 8FT 10Ft 12Ft 14Ft 15Ft 16Ft Trampoline with Safety Enclosure Net, Spring Pad, Ladder
Safest Trampoline For Adults: Skywalker Trampolines 14-Foot Square Trampoline with Enclosure – Added Safety Features – Meets or Exceeds ASTM
Best Rectangle Trampoline for Adults: Skywalker Trampolines – Rectangle Jump-N-Dunk Trampoline with Enclosure
Best Folding Trampoline for Adults: Stamina 36-Inch Folding Trampoline | Quiet and Safe Bounce
Best Mini Trampoline With Bar For Adults: Sportplus Unisex Quiet Miniature Indoor Rebounder Home Fitness Trampoline with Height Adjustable Bar
Best Water Trampoline for Adults: Rave Bongo Water Bouncer